TRADEX AS – Highly regarded contract manufacturer of electronic products in Estonia and Scandinavia.
CUSTOMERS APPRECIATE our independence, flexibility, technical capability and high quality. In cooperation with partners, we have grown into a significant player in the electronics market, offering not only series production but also solutions in the design of electronic products.
FLEXIBILITY in manufacturing of a wide variety of electronic devices and components meets our customers expectations. As an independent company, we do not depend on the long process chain of a large parent company. As a flexible manufacturer, we are able to fulfill orders quickly and accurately by applying high quality standards.
TECHNOLOGICAL COMPETENCE has helped us over the past decade to shape our service into a manufacturing partnership. We contribute to our partners' product development, resulting in customer satisfaction. Our orders are fulfilled quickly and accurately, delivery times are short, and the price-quality ratio is customer-friendly and competitive. Tradex AS is a good place to work – we have modern working conditions, spacious new premises and constantly updated production technology. Tradex is an environmentally friendly company with ISO 9001 quality management.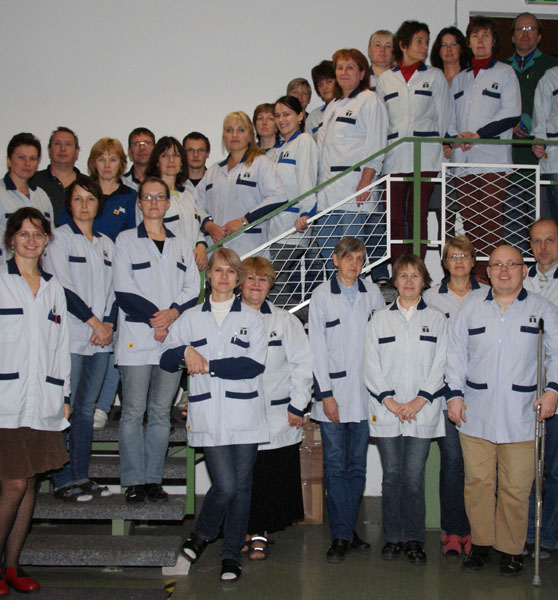 Achieve customer satisfaction with the high quality and timely completion and delivery of their ordered products.
• Taking into account each customer's specific needs and expectations in terms of the workmanship and value for money of the product ordered.
• Continuously monitor customers' expectations in modernising production technology.
• Be an environmentally friendly manufacturing company.
• Exist in compliance with all laws and behave ethically.
• Be attuned to the changing demands and preferences of our employees, customers and society.
products manufactured per year
The company was founded in 1991, shareholders at the time were Palivere EMT automatic devices department employees. During the first few years of operation the main customers were from Finland and Sweden. A substantial part of the contract work was electrical accessory assembly.
In the 1990s, PCB assembly was made using wave soldering and hand loading. SMD assembly manually and using pick and place machine (Philips CSM60 and Philips CSM84VZ) were added in 2000. Since 2004, the machinery has been updated frequently. Since 2005 technology complies with the RoHS Directive. In 2007 modern SMD placement technology and devices were implemented.
Since 2009 electronics assembly is in a new building. Number of employees is 50.
About the companys predecessor
The companys predecessor was Palivere EMTs subsistence production division aka Automatic Equipment workshop, which operated since the late 1970s. During this time, ferrite ring memories (so-called magnetic carpet) were made the for the electronics department of Lääne Kalur and PCBs were assembled. In the early 1980's, a large-scale contractual work for Punane RET began, PCBs were assembled for measurement hardware E6-13A, V3-43, V3-38, V7-26, V7-37. Main amplifiers for Estonia-009 and PCBs for Estonia-010 development batch were also produced. Power supply units, modules and equipment were made for the TA Institute of Cybernetics. There were also a variety of contract work for companies in Moscow and Leningrad. During the heyday in the late 1980s the department had 50 workers. In 1989/90 Personal Computer "TARTU" was produced in small batches.